March 26, 2020—It is no secret that I was not an enthusiastic RVer when Jim and I purchased our first motorhome in December 2010—hence, my blog's name, The Reluctant RoVer. Over time, however (and really, not a lot of time), I came to look forward to our travels, despite all the melodrama some of our RVs have given us. (OK, our misadventures
really only occurred with in our first and especially our second motorhomes, not so much in last three.)
So, you might be wondering if I harbor any reservations about joining the Jacksonville Boat Club. The short answer is "no." For us, it seems to be a good deal. And as long as we use the membership regularly, it is money well spent. The only thing I don't like? (You might be surprised at my answer.) The water.
Here I am, Cap'n Linda, piloting the Nauticstar.
Yep. The water. Actually I love to swim--in a pool. I am not too fond of swimming in open water. And I am especially uncomfortable as the water beneath me becomes deeper. What bothers me most, however, is traveling fast in a boat and crossing over wakes and waves. I am afraid we will tip over! Why don't boats have seat belts? (Duh, I understand why...but I would feel more secure if I were battened down.) Jim is good (and getting better) at managing those waves and wakes; so am I when I occasionally drive the boat. I am also more comfortable going slow, rather than fast. I suspect that the more I go out in the boats, my fears will decrease. Let's hope so.
The boat club gives us access to five different fishing boats, ranging from a 16' boat to two 23' boats, and we can take them out six days a week. No mess; no fuss; no cleanup; no maintenance. All we have to do is bring our fishing gear, jump on board, and pay for the gas when we are done.
The larger boats are big enough to take five or six guests. (They would not be comfortable if everyone were to fish, but for a boat ride, they would be fine.)
My favorite boat of the five is the Nauticstar XTS, a 23' bay boat with a Yamaha 200 HP engine. I like this boat because of its size and comfort. It easily absorbs the shock of plowing through wakes and waves. Additionally, it has a very shallow draft—only 18"—so we can get into the marshes easily to hunt predator fish. It also has a power pole anchor for shallow-water anchoring, as well as a GPS trolling motor, which can hold the boat in place in deeper water.
23' Nauticstar XTS; 5 passengers.
Jim and I both like the smallest of the boats, the Key West. Although it is only 16', it has an economical 60 HP engine, as well as a GPS trolling motor. It is small, but we enjoy using it.
16' Key West; 3 passengers. (Obviously this is a stock photo. Those people are not younger versions of Jim and me.)
Our third favorite, I think, is the Tidewater, a 20' boat with a 150 HP engine.
It also has a GPS trolling motor, but we have found this accessory a bit more cumbersome to use than the ones in the other boats.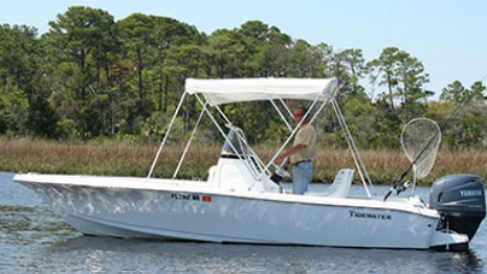 20' Tidewater; 5 passengers.
The 19' Scout can hold more passengers (six), but it doesn't have a GPS trolling motor. Nor does the 23' Polar, which can accommodate seven passengers. Why is the absence of a trolling motor important? Well, that little electric motor can act as an anchor and hold the boat in place while you are fishing. You don't have to throw an actual anchor overboard.
23' Polar; 7 maximum passengers
19' Scout; 6 maximum passengers

I don't know if I will ever become a boating enthusiast--someone who would rather spend time on the water than anywhere else. Just as I would not go to the beach just to soak up the sun, I don't get much pleasure out of just going for a drive in the boat. I am enjoying the freedom we have to go find fish, instead of waiting for them to come to us. (So far, we have been catching flounder...nice.)
Although we have the boat club membership, we still have our modest 14' Port-a-Boat with its little 5 HP engine. Our intention right now is to use this little boat on area lakes or more inland rivers, where we cannot use a JAX Boat Club vessel. (The club's boats are allowed to go all the way up to Cumberland Island in Georgia to the north and as far south as St. Augustine.) But freshwater fishing in in the future. Right now, we are just enjoying our boat club membership and learning how to fish the Intracoastal.
Until next time,
Your Reluctant RoVer (Merry Mariner?)
Linda